CONTACT INFO
leighcurran1@gmail.com
I've spent my life in the Arts and while I started out as an actress I soon added playwriting and later founded the The Virginia Avenue Project  a non-profit using long term, one-on-one arts mentoring to give children growing up under difficult circumstances the skills to think creatively, critically and courageously about life goals and choices.  Project kids join at age six and stay through high school working alongside caring, adult mentors throughout their growing years.  The Project's longtime community partner is the Santa Monica Police Activities League in Santa Monica, California. I was the Artistic Director from 1991-2013.
I'm also the author of three full length plays: The Lunch Girls (finalist for the Susan Smith Blackburn Award; world premiere at the Long Wharf Theatre, Arvin Brown, dir.; Off Broadway at the Grove Street Theatre , Stuart Ross, dir.); Alterations (Off Broadway at the WPA Theatre, Austin Pendleton, dir.; world premiere at the Whole Theatre Company, Olympia Dukakis, dir.) and Walking the Blonde (world premiere Off Broadway at Circle Rep, Paul Benedict, dir; and Off Broadway at La Mama, Leonard Foglia, dir.)  The Lunch Girls and Alterations are published by Samuel French.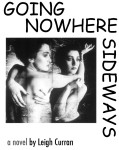 My first novel, Going Nowhere Sideways, was published in 1999 by Fithian Press and was highly praised by Publishers Weekly, Spillway, and Inscriptions Magazines and is available on Amazon.com and other on-line bookstores.  It is a coming of middle age story that traces one woman's evolution from Woodstock in 1969 to the demolition of the Berlin Wall in 1989.  My poetry has appeared in Slant: A Journal for Poetry, Onthebus, The Bark, Spillway, and Rattle Magazines as well as in the on-line e-zine, The Junkyard.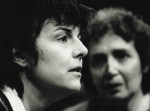 As an actress, I've performed on, off and way off Broadway working with the likes of Kathy Bates, Arthur Penn, Paul Benedict and George Abbott.  In Los Angeles I appeared in my own play, Walking the Blonde and in the LA Women's Shakespeare Company's acclaimed productions of Romeo and Juliet, Othello and Measure for Measure.  TV/Film credits include: West Wing, Judging Amy, Once and Again, LA Law and Reds.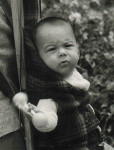 I was born in 1943 and grew up in California and Connecticut.  My father taught at the Thacher School in Ojai, California where my mother, younger brother and I spent the school year but come summer my father would load up our DeSoto station wagon and we'd drive across the country to Salisbury, CT where my father had a summer cabin – kerosene lamps, outhouses, well water and all.  During the school year, my father taught French, Latin, Spanish and motor mechanics at Thacher.  My mother, an actress/singer, performed with the Chekov Players in Upper Ojai until my father died in 1954 – at which point, my mother took over my father's classes until the school could find his replacement.
I graduated from  Santa Catalina School in 1961 when I was 17 and in 2001 received the school's Distinguished Alumna Award for my work with the Virginia Avenue Project.  In 1962, after a year of working odd jobs in Ojai that included taking care of the studio of noted ceramist and friend, Beatrice Wood and teaching arts and crafts to first graders at my first alma mater, Monica Ros School – I headed for New York City to begin my career in theatre.
From 1962-64 I attended the American Musical and Dramatic Academy.  I studied acting with Sanford Meisner, Bill Esper and Robert Modica; dance with Hanya Holm and music appreciation with Lehman Engel.  After I graduated I studied acting privately with Ludwig Donath and later at HB Studios with Uta Hagen.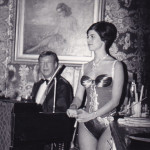 To support my theatre habit, I waited on tables predominantly at the Gaslight Club – a key club similar to the Bunny Club but with a gay-nineties feel.  Because I was tall and strong I was relegated to working lunches and because the club was in a brownstone, all the lunch girls carried heavy trays up and down flights of stairs while trying to look sexy in fishnet hose, scant costumes and six-inch heels.  Ten years later, this experience which always felt disconnected from my intended life would become the inspiration for my first play, The Lunch Girls.
I got my Equity Card in 1968 when I was hired to be in the chorus and understudy Brenda Vaccaro in the Broadway musical, How Now, Dow Jones.  Shortly thereafter I began making TV commercials and by the mid 70s had become one of the top on-camera commercial artists.  Making commercials made it possible for me to explore lesser paying jobs like playwriting, alternative theatre and life in general.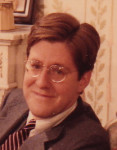 In 1974, I met actor, Edward Herrmann.  Shortly after we moved in together, I took up playwriting.  I'd had no formal training as a writer but I had a good ear for dialogue and understood dramatic tension.  Basically, I asked myself all the questions I'd ask myself when creating a character as an actress – what do I want and why is it so important I get it now as opposed to later?  And if the characters had opposing Wants – there was plenty of room for conflict.  In time I began to realize my characters would lead me to the story rather than the other way around.  This was the adventurous part of writing – I never quite knew how things were going to turn out and, therefore, neither did the audience.  And, in addition to writing parts for women that were meaty and off-beat – I also discovered that with writing, unlike acting, you don't have to wait to be hired to be creative.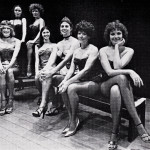 My first play, The Lunch Girls, was produced at the Long Wharf Theatre in 1979 under the direction of its Artistic Director, Arvin Brown.  Throughout my playwriting career, I've been lucky to work with some wonderful directors in addition to Arvin – who taught me about play structure, timing, audience attention, etc.  Some of my director/mentors are Austin Pendleton, Olympia Dukakis and the late Paul Benedict.  Other influential mentors include playwright, Michael Weller; director, Dan Petrie and producer, Dorothea Petrie.
In 1978, Edward and I bought a house in Carmel, New York and were married in the fall of that year.  In the country, I discovered my love for vegetable gardening and while that didn't seem important at the time, it would become a major part of my life later on.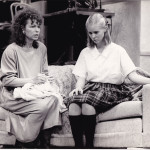 While Edward was enjoying considerable success in theatre, film and television, I wrote my second play, Alterations which was ultimately produced Off-Broadway at the WPA Theatre featuring Cynthia Nixon and Gretchen Cryer in the cast and Austin Pendleton as director.
Edward and I separated in 1986.  I returned to New York City where I wrote and performed in my third play, Walking the Blonde. It had its world premiere at Circle Rep under the direction of Paul Benedict then The Barrow Group picked it up and produced it Off-Broadway at La Mama, directed by Leonard Foglia.  During this period, I began exploring alternative theatre.  I wrote and performed in my own pieces at PS122 and the Wow Cafe where I was fortunate to work with Lisa Kron and the Five Lesbian Brothers.
In 1988, I was invited to write a short play for the 52nd Street Project's One-on-One Program.  In this program, a professional actor is teamed with a kid to perform in a short play written by a professional playwright.  My actor was Paul McCrane and my kid was an eight-year-old boy from a neighborhood housing project.  I was so taken with the experience I began volunteering for the Project as an actress, writer, collaborator, director, class mentor, stamp licker, whatever – because in my heart of hearts I sensed the 52nd Street Project was changing my life.  The change became real when I was invited to learn how to teach kids to write plays.  The process, called Playmaking, was created by Daniel Judah Sklar – it was creative, smart, loaded with integrity and as much fun for seasoned playwrights as it was for kids.  At the end of the training, I knew I had to teach kids how to write plays and, for that matter, how to act in them and it was then I got the idea to replicate the 52nd Street Project in Los Angeles.
In 1991, newly divorced and feeling the wind at my back, I moved to Los Angeles to found the Virginia Avenue Project.  At the time I knew nothing about non-profits and little more about kids.  I was lucky to have the former Executive Director of the 52nd Street Project, Marsue Cumming, to guide me through the grant writing and set up process.  Daniel Judah Sklar, my great mentor when it came to working with kids, flew to LA to get Playmaking and his advanced playwriting program for children, Replay, off the ground.
I started the Virginia Avenue Project in a leaky lean-to behind my house – a scrap of paper hanging over my desk with a phone number to call if I ever needed an Executive Director.  When the Virginia Avenue Project's first production, Strangers in Paradise, opened in April, 1992, I called the phone number and the fates brought me Kendis Heffley who became the Project's Founding Executive Director.  Kendis and I were opposite halves of a whole and great friends.  We guided the Project through its first eight years adhering to the belief that who we were in the office would trickle down to our kids so if we wanted the Project to have legs we needed to practice what we preached.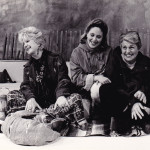 During that time, I also starred in a production of my play, Walking the Blonde at Theatre Geo in Los Angeles.  My first novel, Going Nowhere Sideways, was published to enthusiastic reviews by Fithian Press.  I began studying with Jack Grapes of the Poets and Writers Collective and writing and publishing poetry.
In 2000, Meryl Friedman became the second Executive Director of the Virginia Avenue Project guiding it through its adolescence for seven exciting, creative years.  Meryl and I expanded the Project's horizons by augmenting our Outreach Program and instituted new programming to challenge Project kids in ways that were relevant to the changing times.  We also started the Project's creative tutoring program, Smart Partners, designed to make learning fun again for Project kids who were struggling in school or kids who wanted to maintain strong grade point averages before applying for college.
At the end of 2013, I retired as Artistic Director of the Virginia Avenue Project and returned to my first love, writing and performing.  I began reading personal essays around town and in June, 2015 my solo show, Why Water Falls, had its World Premiere Production at the Hollywood Fringe Festival.  This was followed by a successful run Off-Off Broadway in the fall of 2015.  Why Water Falls enjoyed a return engagement in Los Angeles at Highways Performance Space in April, 2016 and had its final performance at the United Solo Festival in New York City on September 30, 2016.  Another play is in the works!  Stay tuned!